A row of Roman bottles,  watercolour  21 x 50cm
I have recently been working on paintings from my time at the University of Cambridge Museum of Archaeology and Anthropology (MAA). 'A row of Roman bottles' will be in the RI 2016 exhibition (see invitation below), alongside other new paintings – some mentioned in previous posts.
Over the past few weeks I have visited the Suffolk Constabulary Police Headquarters. They have a diverse collection of knives acquired through their Knife Amnesty and I wanted to do a painting of them. Some look so innocent (everyday kitchen or garden knives), while others definitely aren't. We will never know who handed them in or why. It's hard to know why I get these urges to paint certain subjects. Obviously, whether it is rows of Roman bottles, old boots or knives, there is a huge gap in what we know about their history – who owned them, what did they used them for or why did they get rid of them? There is literally more to them than meets the eye and I am trying to point towards it.  For me, these objects have an inherent attraction. It is an unconventional beauty. It is not only the simplicity of the objects themselves that inspires me – what lies behind the surface also adds to their attraction and potency.
The RI 2016 exhibition runs from 6th – 16th April (10am – 5pm) at the Mall Galleries, London SWI   
The Private View is on Tuesday 5 April, 12 noon – 8pm, and you are welcome to come.  
It is being opened at 3pm by
Rt Hon John Whittingdale MP, Secretary of State for Culture, Media and Sport.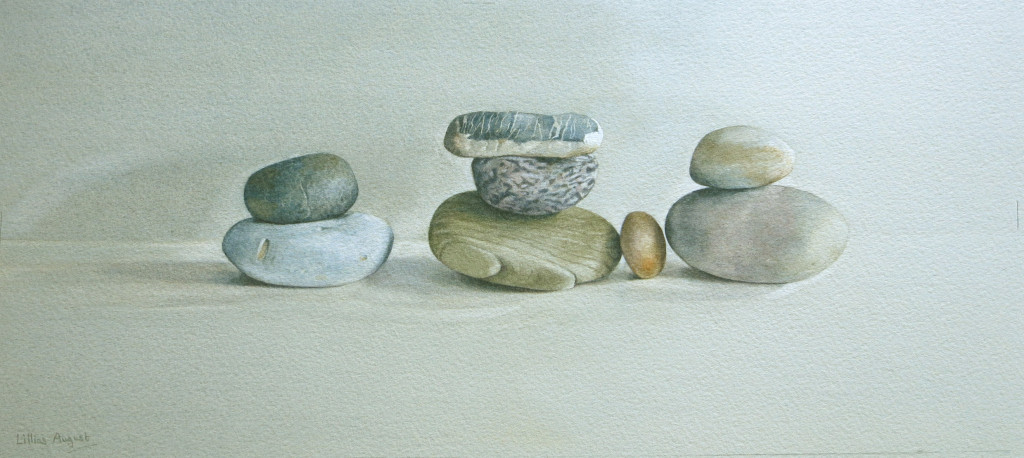 Eight pebbles,  watercolour 18 x 41cm