28 November 2020
I've had time to think back at work that I have done in the past and is still around my studio.
I knew when I painted these subjects that they weren't 'easy' but obviously something compelled me to paint them.  It is only in retrospect that the reasons start suggesting themselves to me and often, it seems to be a kind of internal protest that I need to get out (a lot of the paintings that I have on my wall are slightly uneasy to look at so I must be drawn to that kind of thing).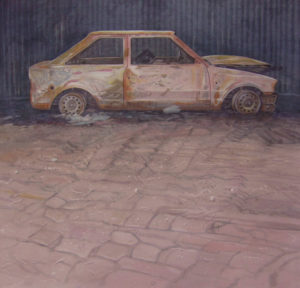 Burnt out   watercolour 52 x 54cm
So the first that came to mind was a painting that I did of a burnt out car.  I came across it down our country lane.  It was quite provocative – something that symbolised urban troubles turning up in the depths of the quiet countryside. But, apart from that, it was really quite beautiful with the textures and colours of burnt paint.  It does't look like a country lane but that's because I altered the background!
The next one I reflected on was a painting of a skip that I saw on holiday. There we were on a beautiful Mediterranean island, driving down bumpy tracks in the middle of nowhere when we came across this skip overflowing with rubbish.  Why would I paint such a thing?  And now it sits in a drawer…. protesting silently to our throw away culture.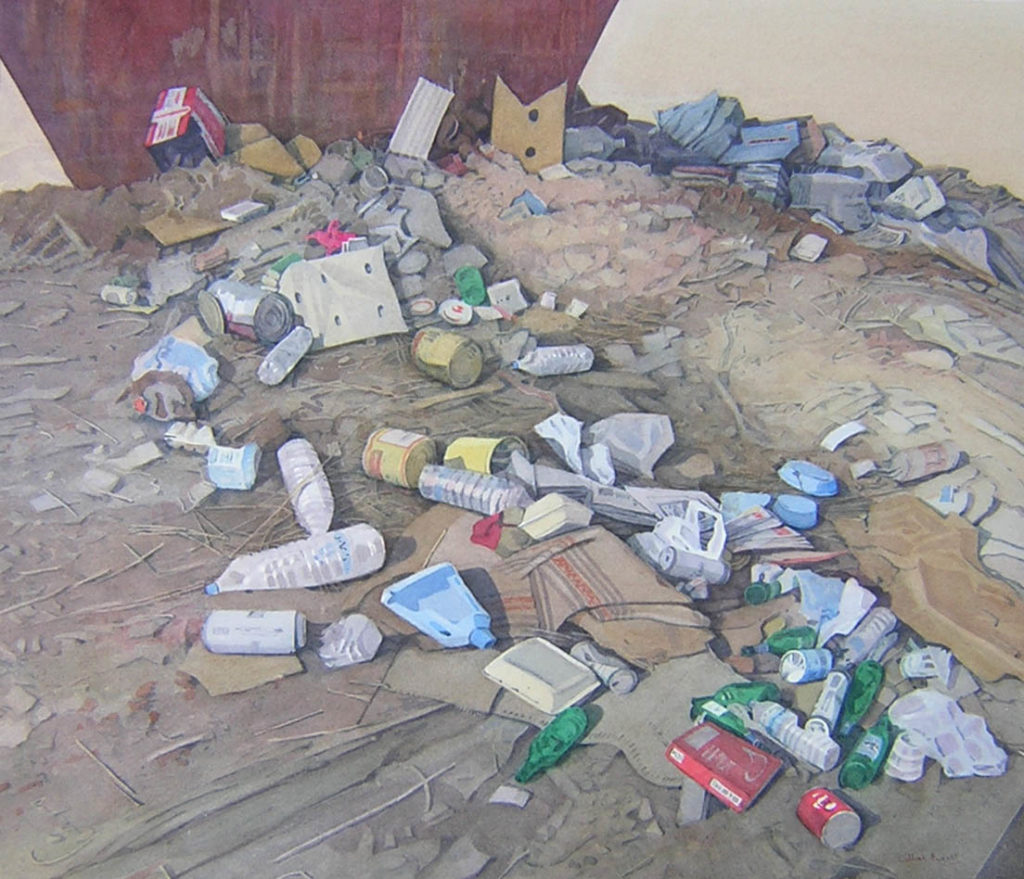 Skip   watercolour 44 x 52cm
More recently I have painted decommissioned guns and also knives handed in during a knife amnesty.  I wrote about them here.  Again I could hardly understand my compulsion to paint them but, again, I think that it was a kind of way of forcing facts to be faced  (similarly,  I suppose that my recent paintings of ordinary objects laid out in rows are, like most paintings, inviting you to take a close look at something you may pass by or choose to ignore).
I suppose some may think that my recent painting of old mobile phones, 'Lost connection', is a bit unusual. I wrote about it here.  It's hanging in the Sunday Time Watercolour Competition exhibition at the moment so at least it was appreciated and is getting a second outing after the annual RI exhibition!