21 May 2020
My last post was the first during lockdown – this is the second.  The first, 'Working in isolation', saw me painting small landscapes while I adjusted to all the news. I have since moved on….
Those of you who know my work will know that I like working in series. I have recently painted a series of nests (see some at Adrian Hill Fine Art). I usually do them to scale and have been wanting to do a big one for a while and looking up longingly at the inaccessible rooks' nests next door…..
A few weeks ago a nest fell down into my garden from a eucalyptus tree. The rooks are unaware that a bendy eucalyptus is not the best place to build. The usual result is a load of scattered twigs to tidy up but this time a complete nest landed upside down as if to say 'here I am, paint me'.  There was a suprise when we turned it over – there in the middle of all the twigs was a smaller nest made of moss and leaves.  So the twigs that we see from below are not the nest itself but an outer platform nest made.  It was a struggle, but my husband managed to string it up for me to paint and you can see the result below.

Rook's nest   54 x 73cm
I have also wanted to 'scale up' and add a larger painting to my series of unmade beds (see previous posts).  Unlike the nests, I haven't done my bed series to scale (!) but I've been hanging on to a lot of material – drawings and photos – to start a larger painting. Watch this space……
Having said all that, I'm starting to do tiny paintings in between to make up a Lockdown A-Z of small, simple, everyday household objects (this follows an A-Z of still life that I did 10 years ago). So I don't know which way I'm going but its definitely not medium sized!  .
An afterthought ……. Nests and beds – what is it about them? Comfort, security, warmth, peace, love.  Coincidently, all things that appear to be needed at the moment.
Given the above, I shall be busy.  But this strange new world has made me review priorities and I am not going to rush.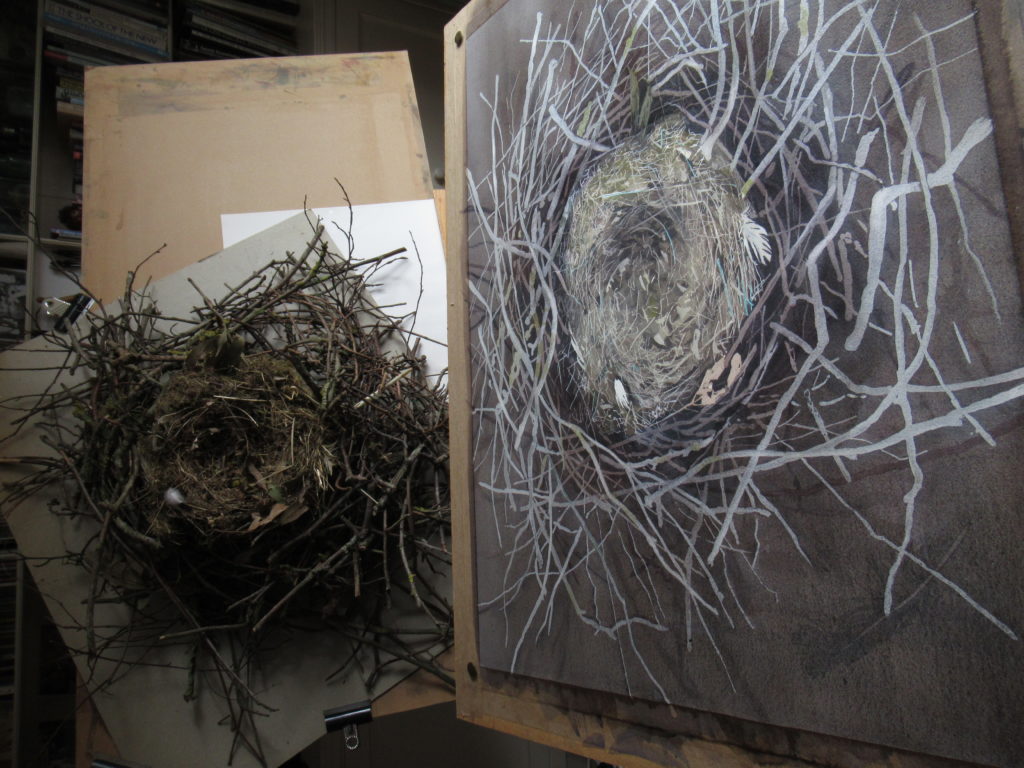 Rook's nest in progress.